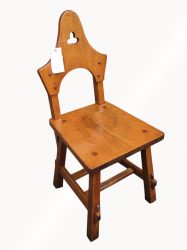 One of the earliest antique furniture ever documented was from about 1650. Some of the most popular antique furniture such as Art Deco or Mid-century modern are not really antiques at all as an antique by definition is something that is at least 100 years old or older. Younger than this would be considered vintage or a collectible. But it is mesmerizing hoe styles have evolved from cabinetmakers like George Hepplewhite to unique pieces from masters such as Gustav Stickley.
There is no question that choosing between contemporary and antique furniture styles need some appraisal. As they both have their own particular features and their own attraction. Which is why buyers get themselves in this situation. Here are some things that can help those who seem confused between antique and contemporary furniture styles.
While the modern world is changing, so are our tastes and liking. But nothing can bring you more peace and beauty than exclusive pieces of antique furniture. When compared to contemporary forms, antiques have more value. Along with the new and modern style, the old look of antique furniture looks completely different. Antique furniture never loses its uniqueness and luster. These types of furniture like tables, chairs, work desks, and wooden desks was once a part of our childhood and the designs that those artists created, today are not visible. As with the increase of convenience of labor and the imitations, there is an increase in furniture but with reduced quality. With cheap imitations of royal antiques, the distinction and value of the furniture are lost.
Also, antique furniture can last you a lifetime when cared for properly and never loses its uniqueness and style. These pieces of furniture never go out of fashion and give your home a distinctive look. The simple look of antique furniture can fit into any traditional home and looks amazing in any contemporary setting.